Document Shredding & Paper Shredding Services Easily Help You Improve Your Security
Your home contains confidential information about you and your family. From bank and credit card statements to social security and investment information. Even passwords that you've written down for your wireless modem/router or your email are potential security risks. Because many households lack the resources to hire expert IT and encryption, it's no surprise that consumers are at such a high risk for identity theft and fraud.
Being able to access documents that contain confidential data poses a serious threat to your and your family's person information. Document shredding and paper shredding services are a common way to do what it takes to help prevent your personal information from being compromised.
Dakota Data Shred
provides secure document shredding and paper shredding services to help keep your identity safe and secure. We've got some tips, tricks, and information on the how-to's and why's of document shredding and paper shredding services.
Document Shredding Best Practices


"Shred-all" Regularly
A "shred-all" policy is one of the most critical steps you can take towards total information security. It means a household commitment to shredding all documents on a regular basis. Setting up a household routine for document shredding services means everyone in the house will know exactly when and where paper shredding services in the home take place.


A shred-all policy means there is no way – intentional or unintentional – of your sensitive information having access to outside sources, including criminal groups that feed on this sensitive information to commit identity theft crimes. By regularly disposing paper waste, you control how much and where it accumulates, which helps with security. Set up a banker box at home and keep all of your sensitive information in there. When the box is full, take the box to
Dakota Data Shred
, and they'll shred and dispose of the paper securely, and for free. Residential customers of Novak receive up to 5 free boxes worth of document shredding and paper shredding services.
Dakota Data Shred
5000 W 8th St
Sioux Falls, SD 57107
Open Monday-Friday 7:30 a.m. to 5:00 p.m.

Shred Before Recycling
Yes, recycling paper helps reduce the amount of resources we use and is good for the environment. But, are you recycling in a security-conscious manner? Loose paper is often unattended for long periods of time before it has been recycled, and it can leave your pocketbook vulnerable to potential theft. Unguarded paper in recycling containers can be misplaced, stolen, or it can simply fall out of the recycling truck and onto the street.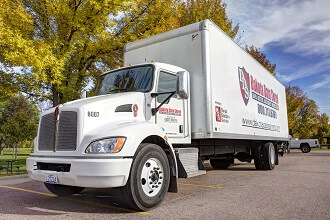 Dakota Data Shred
meets both needs by serving the environment and following responsible business practices.
Dakota Data Shred
's document shredding and paper shredding services recycles documents while also keeping our customer information confidential. By using
Dakota Data Shred
, your information stays confidential and your data gets properly destroyed, while reducing paper waste through recycling.
Shred Reliably
By implementing these guidelines, you'll have come a long way toward total security for you and your family's information. By relying on document and paper shredding services like those at
Dakota Data Shred
, you free up your time by not having to sort through all of the documents you may or may not want shredded. Another positive aspect in using a document shredding and paper shredding service like Dakota Data Shred is that employees are expertly trained in providing total security throughout the document destruction process. Between locked security consoles, powerful shredding machines, and a tight chain of custody, your total security is in good hands.
By following a few simple guidelines, your home can streamline the document shredding process. This creates a way for your sensitive information to be securely destroyed, while ensuring that your shredded documents are disposed of in an environmentally conscious manner. Here are just a few things that you should consider shredding:

Account numbers
Birth dates
Passwords and PINs
Signatures
Social Security numbers
Names
Addresses
Phone numbers
E-mail addresses
Address labels from junk mail and magazines
ATM receipts
Bank statements
Canceled and voided checks
Credit and charge card bills, statements and receipts
Credit reports and histories
Employee pay stubs
Utility bills (telephone, gas, electric, water, cable TV, Internet)
A document shredding and paper shredding service from
Dakota Data Shred
can help keep your information secure, while disposing of it properly. Residential customers currently with Novak receive five full banker boxes worth of shredding at no cost from
Dakota Data Shred
! For more information on
Dakota Data Shred
, call 800-717-6761. If you're interested in starting residential service with Novak, contact us
here
or give us a call at 605-338-7126.
---