Correct Prescription Drug Disposal Keeps Sioux Falls Safe with Medication Disposal Drop Boxes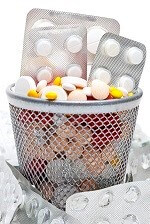 At one point or another, we've all had to take prescription drugs for an illness or ailment. Sometimes we end up with extra or leftover medication. During the cold and flu season, it's not uncommon to purchase over-the-counter medication and use only what we need until our bodies fight off the virus. This usually results in a half-empty package of cold and flu medication that becomes lost and tucked away during the months (possibly years if you're healthy). It's not safe or recommended to use any medication past the expiration date, so what should we do with our leftover medication? Proper prescription drug disposal and medication disposal can help the community and the environment.
On Saturday, September 26th 2015, thousands of Americans and communities across the country took part in the Drug Enforcement Agency's (DEA) National Prescription Drug Take-Back Day Initiative (NTBI). According to the DEA's website, "more than 350 tons of unused, expired, or unwanted drugs" were discarded.


The DEA's website claims that the event was a huge success, citing the following numbers:
5,000 collection sites across the United States were established.
702,365 pounds of unused, expired or unwanted drugs were collected.
3,800 federal, state, and local agencies took part.
The NTBI started in 2010, and has held 10 drives since then. The drives have collected a cumulative total of 5,525,021 pounds of drugs.


Drives like the NTBI and local drop-off boxes for proper prescription drug disposal and medication disposal are important. According to the DEA's website:


"The numbers are shocking—approximately 46,000 Americans die each year from drug-related deaths. More than half of those are from heroin and prescription opioids," said Acting DEA Administrator Chuck Rosenberg. "With four out of five new heroin users starting with prescription medications, I know our take-back program makes a real difference."
Not only do prescription drug disposal and medication disposal drop offs help stem the problem of introducing citizens to illegal drugs through prescription medication, prescription drug disposal and medication disposal drop offs also help counter the growing problem of prescription drug abuse.


According to the
2014 National Survey on Drug Use and Health
, 6.5 million Americans abused controlled prescription drugs. That same study showed that a majority of abused prescription drugs are obtained from family and friends, including from the home medicine cabinet. Prescription drug disposal and medication disposal events like the DEA's NTBI are also a significant piece of the White House Office of National Drug Control Policy's prescription drug abuse prevention strategy.
The City of Sioux Falls provides proper prescription drug disposal and medication disposal through their Prescription Drop-Off Box in the
Law Enforcement Center
. The Prescription Drop-Off Box is located at:
Law Enforcement Center - Lobby

320 West 4th Street
Sioux Falls, SD 57104

Hours: Monday-Friday 6:00am to 10:00pm


With the Prescription Drop-Off Box at the
Law Enforcement Center
, citizen can practice proper prescription drug disposal and medication disposal techniques. There are no questions asked to people dropping off their prescription drugs and medication for disposal and no forms are needed.
There is a container for pills or powders
There is a container for sharps and needles
There is a container for chemo medication
No liquid medication is accepted.
The lobby of the Law Enforcement Center is open from 6 a.m. to 10 p.m., Monday through Friday. If you have questions about the program, please contact the Law Enforcement Center at 605-367-7212. For emergencies, dial 911.


In the past, many people used flushing old medicines down the toilet as a proper prescription drug and medication disposal method. This was done to prevent accidental poisonings of children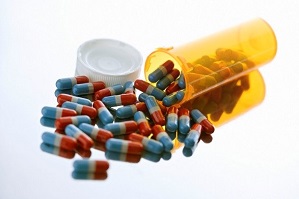 and animals who may find medicines in the trash. But today, the Environmental Protection Agency (EPA) no longer recommends this. Sewage treatment plants may not be able to clean all medicines out of the water. This may harm fish and wildlife.
DO NOT FLUSH
unused medications. Consumers were once advised to flush their expired or unused medications; however, recent environmental impact studies report that this could be having an adverse impact on the environment. While the rule of thumb is not to flush, the Food and Drug Administration (FDA) has determined that
certain medications
should be flushed due to their abuse potential. Read the instructions on your medication and talk to your pharmacist. As the medication experts on the healthcare team, pharmacists are available to guide you on how to properly dispose of your unused medications.
Novak is celebrating 50 years of commitment to our community. By helping to educate the community on proper prescription drug disposal and medication disposal, we're continuing that community commitment and our commitment to the environment. If you'd like Novak to be a part of your next community event, please
email us
or give us a call at 605-338-7126.
---
Last Modified: