Residential
Novak Sanitary residential trash customers are allowed to bring the equivalent of five banker size boxes of documents per year to our office to be shredded, free of charge! After the five free boxes per year, the cost is only $7 per box.
Individuals who are not Novak residential trash customers may also drop off documents to be shredded. The cost is $7 per box (size equivalent to 12" x 15" x 10").
Please bring items to our Novak office:
---
What should residents bring to shred?
In short, all sensitive information including junk mail and paperwork that includes the items below should be destroyed.
Account numbers
Birth dates
Passwords and PINs
Signatures
Social Security numbers
To protect your privacy, you should also consider shredding items that include:
Names
Addresses
Phone numbers
E-mail addresses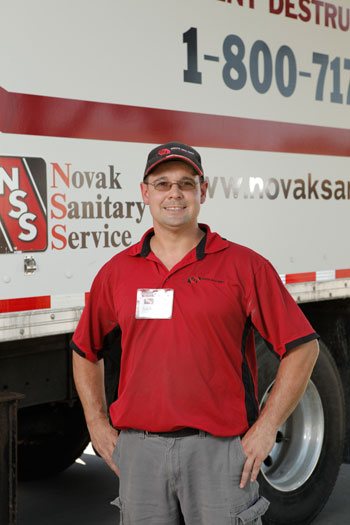 Below is a list of specific items to consider shredding for your safety and privacy:
Address labels from junk mail and magazines
ATM receipts
Bank statements
Birth certificate, extra copies of
Canceled and voided checks
Credit and charge card bills, statements and receipts
Credit reports and histories
Employee pay stubs
Employment records
Expired credit and identification cards including driver's licenses, college IDs, military IDs, employee badges, medical insurance cards, etc.
Expired passports and visas
Insurance documents
Investment, stock and property transactions
Legal documents
Luggage tags
Medical and dental records
Papers with a Social Security number
Pre-approved credit card applications
Receipts with checking account numbers
Report cards
Resumes or curriculum
Signatures (such as those found on leases, contracts, letters)
Tax forms
Transcripts
Travel itineraries
Used airline tickets
Utility bills (telephone, gas, electric, water, cable TV, Internet)