Yearly Bicycle Charity Gives Back to the Children's Home Society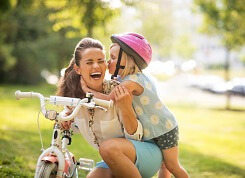 The holiday season is upon us and with it comes tidings of cheer and goodwill towards others. While we all strive to make our holiday season special for those closest to us, it's easy to forget about the people who exist outside of our circle of friends and family. Sometimes we become so wrapped up in creating the perfect holiday for ourselves and our loved ones, that we forget there are those who are facing a less than perfect season and that the smallest act of kindness can make a huge impact.
For the last 9 years, Novak Sanitary Service has been engaged in a bicycle charity that brings new bikes to the children of the Sioux Falls area with the help of the Children's Home Society. Established in 1893, the Children's Home Society is South Dakota's oldest human services, nonprofit organization. The Children's Home Society is accredited by The Joint Commission and licensed by the South Dakota Department of Social Services. The mission of the Children's Home Society is to protect, support and enhance the lives of children and families. In 1998, Children's Inn (founded in 1977 as a domestic violence shelter) became a program of Children's Home Society through a merger.

The programs at the Children's Home Society programs include emergency shelter, residential treatment & education, foster care & adoption services, forensic interview & exam centers, and prevention & education resources. While serving victims of domestic violence and child abuse, another part of the Children's Home Society's mission is to partner with caring parents to help children with emotional or behavioral problems.

Over the years, Novak has participated in this bicycle charity by collecting and assembling new bicycles to give to the kids of the Children's Home Society during the holiday season. Novak Sanitary Service has a strong commitment to our community, and that community begins with the children. This bicycle charity and the positive impact it brings each year has become one of our favorites.

The Children's Home Society holds a special place in our hearts because of the work that they do. The children at the Children's Home Society have faced circumstances beyond their control. Through the bicycle charity, Novak has the ability to give these children, many of which have never had a bike of their own let alone a brand new one, the opportunity to have a new bike and helmet.

This bicycle charity gives volunteers the opportunity to see the look in their eyes and experience the joy in their hearts when these kids get a new bike. The bicycle charity is one of the most gratifying and heartwarming things you can experience, and we invite all of our Novak customers to enjoy the experience of volunteering for this event. Employees, families of employees
and vendor partners typically participate in this event, but we welcome anyone who wants to be an active participant!

Novak Sanitary Service is committed to excellence in all aspects of our business, from our customers, to our service, to our community. We recognize the importance of building a strong communal foundation on which others can grow and succeed. Our Christmas Bike Charity is one small way in which we give back to our community.

If you'd like to participate in this bicycle charity event, please contact our management staff at Novak Sanitary Service or give us a call at 605-338-7126. Many of our employees and vendors donate the bikes, while our staff and volunteers assemble them. Members of our staff then volunteer to deliver the bikes and other gifts. Delivering these gifts and seeing the pure joy and excitement these kids have when they get their new bikes is truly a heartwarming, joyous experience and we invite everyone to take part this bicycle charity to make the holidays a truly magical time for these children.

We'd like to give thanks to our employees, our customers, and our community. Without you, we wouldn't be who we are. Thank you!


Happy Holidays, have a wonderful Christmas, and we look forward to 2016!
---