In This Section

Avera Race Against Breast Cancer
May 11, 2019
Location: Avera McKennan Fitness Center, 3400 S Southeastern Ave, Sioux Falls, SD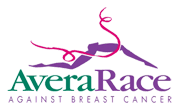 Novak Sanitary Service has been supporting this event since 1999.
Each year, the Avera Race brings together family, friends, cancer survivors and others - all racing toward a common goal: to enhance cancer care for people right here in Sioux Falls and surrounding communities. Every penny stays local to help your families, friends and neighbors get the treatment and support they need.
For the most up-to-date details visit the event website.
EVENT WEBSITE
http://www.averaracesiouxfalls.org


About Avera Cancer Institute


The Avera Cancer Institute continues to enhance the lives of cancer patients and their families through YOUR generous support and participation in the Avera Race. The 2014 Avera Race Against Breast Cancer marks its 26h year as Avera McKennan and the Avera Cancer Institute continue their ongoing commitment to providing all women in our community with the most advanced technology and compassionate care available in their fight against breast cancer.
Where the Money Goes
All the money raised from the Avera Race stays local. Some of the programs and services that are funded through the race:
All Women Count Program
Avera Cancer Institute Resource Library
BRCA Genetic Testing - offset costs for genetic testing to see if prone to Breast Cancer
Breast Cancer Support Groups
Cancer Fitness Program – provided at the Avera McKennan Fitness Center
Genetic Research for the Breast Cancer Registry
Integrative Medicine – alternative therapies such as massage, arts & healing, & aromatherapy
Breast Imaging Navigator - This nurse focuses on the navigation needs of patients prior to a diagnosis
Wigs for cancer patients